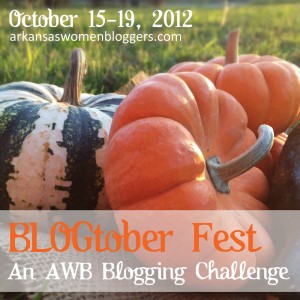 I have always loved Halloween and things that are scary.  I love a good old fashioned horror movie and I will always claim the Halloween movies as my all time favorites.  I like the innocence of the older horror flicks. People still got hacked up, but it didn't look real.  I can handle blood and gore if it doesn't look real.  I remember when my brother let me watch the original Halloween movie for the first time.  I was about 6 (my Mom would die), and he made it funny.  He explained to me that it wasn't real and we laughed through the scary parts.  I think he knew that if I had a nightmare from the movie he would be in deep doo-doo.
Anyway, my most awesome Halloween memories were my costumes.  My Mother is an magical seamstress.  She can make anything.  At the beginning of October she would allow me to pick out what I wanted to dress up as (as long as it wasn't scary) and she would make it from scratch.  I should have dug out some pictures.  I was a 50's Girl, a clown, a princess, a pumpkin, a witch, and many more innocent little creations.
For the first 5 years of Evan's life, I bought his costumes.  Don't worry, I bought the good ones not the cheap stuff from Walmart.  Last year, since John David was big enough to walk around on his own I decided I would make the boys matching costumes.  Evan decided they wanted to be ghosts.  I was all like, yes that will be soooo easy.
Oh Lord, it was an ultimate failure.  You can read about it here.  I will not post the photos again.  Evan wants to be Batman this year and John David wants to be Spiderman.  I am happily purchasing these costumes to avoid any more embarrassment.