This week I will be participating in a blogging challenge sponsored by Arkansas Women Bloggers.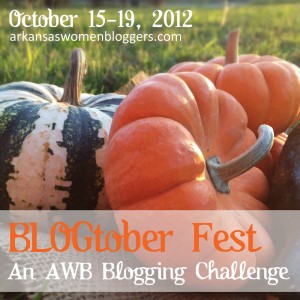 Well, way to start the challenge off hard.  Fashion? Uh, I am not very trendy.  I couldn't tell you what the hot new style for fall is to save my life, but I do know a little about changing your running and mountain biking clothing for the colder months, so ta da!
We are lucky in Arkansas, it doesn't really get cold cold until around January, but the first couple of miles on a cold morning can be hard.  Here is what you need to make it bearable.
1. Mind your ears!
I have found that if my ears are warm, my whole body feels warm.  There is just something about my ears freezing off that scares me.  I like my ears.  I am a fan of the headband because I sweat a LOT (even in the cold) and the beanies usually get soaking wet from all my head sweat.  Also, headbands allow you to still look like a girl.  If you have long hair like me the headband allows you to still tie all that mess up in a bun without giving you the appearance of a cone head.  Nobody wants a cone head.  Headbands also fit better under bike helmets.
2. Protect those fingers.
I have been known to run or bike with gloves and a shortsleeved shirt.  I know it looks tacky, but my forearms are considerably tougher than my poor little hands.  This is a little gross, but gloves also make great sweat wipers when you are good and warmed up, just remember to wash them every once in a while or they will get to stinking.
3. Shed the water.
The most bothersome thing about the fall is that it rains more.  In the summer months, running in the rain is an awesome cool down, but cold rain is not so fun.  Good rain jackets are expensive, but totally worth it when it starts sleeting in January.  Start saving your money now.  Here is another list of cheaper running rain jackets from Runner's World.
4. Change out of your shorts.
I know we all like showing off our legs, but get real and put some pants on.  The most important lesson I have ever learned was that you can't run in yoga pants.  They always stretch out and start creeping down at the most inopportune times.  Get you some nice tights and don't get the nickname the "Running Plummer".  Also, compression tights are warmer and they hold in all the parts that jiggle.
5. Make yourself visible!
Booooo the ending of Day Light Savings Time!  It gets dark around 3 in November, so bust out your best 80's neon and make sure people can see you.  I have a flashing pink light I put on my CamelBak for night runs and some extra reflective sticky things.  When you run, you are facing traffic and can dodge accordingly, but on your bicycle you can't see the crazies coming, so to preserve your life, I would not recommend riding your bike in low light situations.  Brooks has an awesome collection of brightly colored clothing you can check out here.
Make sure you click that pumpkin picture at the top and visit the other Arkansas Women and their fashion posts!