Today I am linking up with: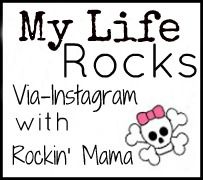 I found this rockin' lady through the Blog Star thingy I did the other day and this link up was too much to resist.  I love Instagram and I love taking pictures of my life.  Seriously, I think my life is the best there is, so why wouldn't everyone else?
1.  Totally random, but I realized that my pinky finger is the same length of my husbands second toe.  Wha? What?  I guess I don't realize how big he really is because I stare at him everyday.  I am 5'7″ and he is 6'2″ and wears a size 13 shoe.  Also, I need to re-shellac my nails tonight…
2.  We normally get beautiful pink and blue (my favorite color combo) sunsets at our farm, but after a little storm we got this unusual vanilla colored one.  It was a nice change up.
3.  I altered a blueberry muffin recipe and made it sugar free.  It was actually eatable and yes I am going to blog about it.  I may be a blooming foodie.  YEA RIGHT!
4.  I got lost on a 15 mile bike ride in the woods, but hey, I am still smiling and only mildly nervous!
5.  I went four wheeler riding in flip flops.  Did I mention it rained a few hours before the ride.  Not the best shoe choice…
6.  George is my favorite ass after Aaron.  He always wants to be all up in my business.
7.  My baby boy John David turns the big 3 today! Wow, time has flown.